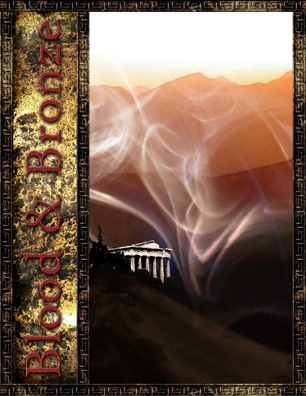 Blood and Bronze
Blood and Bronze is a game of set in the classical period of Greek legend. When each city was a kingdom, with an army lead by kings and heroes of legend, watched over by a patron god or goddess, and each desiring greater glory. It is a highly competitive game, where your ally in the morning may be camped outside your walls by afternoon. Do you have what it takes to outmanuever the other cities, and be remembered throughout history as the greatest of all Greek cities? Dare to stand above the crowd as a city Without Peer!
The game comes in two editions, regular and Without Peer! Both versions give you everything needed to play, but the Without Peer! edition comes packaged with 146 stamped metal tokens, hand cut rules, play aids and history sheets. It also comes in a hand-hammered brass bowl that I will make for you at the time of your order.
Originally my entry into 2005's Iron Game Chef, it evolved over play and feedback to become much more a boardgame kind of thing than a role-playing game.
Order the regular edition at Indie Press Revolution, where you will find a huge volume of top notch games, from a wide range of independant publishers. Without Peer! editions are currently out of stock, but may be carried by IPR in the future.