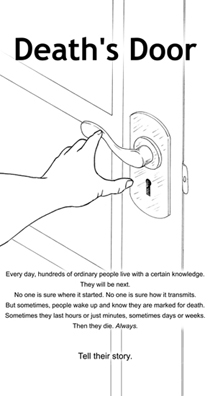 Death's Door
Death's Door is a cool game that is meant to
cause the people who play it to examine death.
-Clyde
Death's Door is a role-playing game for 3 to 5 players in which the players around the table take on the roles of people who, for no explained reason, know they are going to die.
Because this is nigh-unto the most frequent question: It's 32 pages, B&W, 8.5 x 5.5, plain paper saddlestitched.
Some resources you may find helpful: Actual play report from Forge Midwest, Blank protagonist and antagonist sheets, and a demo kit, with everything you need to demo the game to interested parties.
Death's Door is no longer available for purchase.